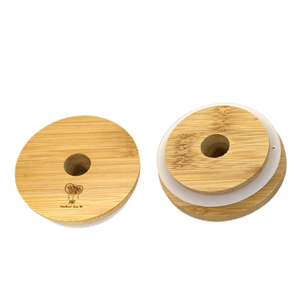 Me.Mother Earth
Bamboo Mason Jar Lids
Regular price
$6.58
$0.00
Convert standard and wide mouth Mason jars into drinking cups easily with these sustainable bamboo mason jar lids with straw holes. Turn old pasta jars, canning jars, etc into to-go drinking cups or Boba cups for a simple, sustainable zero-waste swap! Great for kids too!
Made with sustainable bamboo with a removable silicone seal- these lids come in two sizes: standard and wide mouth.
Sizing:
Standard-size Mason jars, regular mouth, 2 3⁄8 in (60 mm) inner and 2 3⁄4 in (70 mm) outer diameter.
Wide mouth, 3 in (76 mm) inner and 3 3⁄8 in (86 mm) outer diameter.
Straw hole is 0.56"
Mother Earth Approved: Made from high quality and smooth, naturally antimicrobial bamboo, this is a great addition or gift for those trying to live more sustainably. 
---
Share this Product